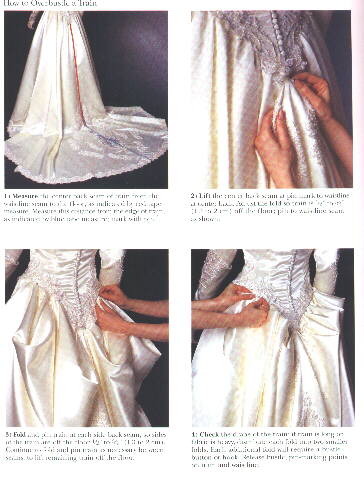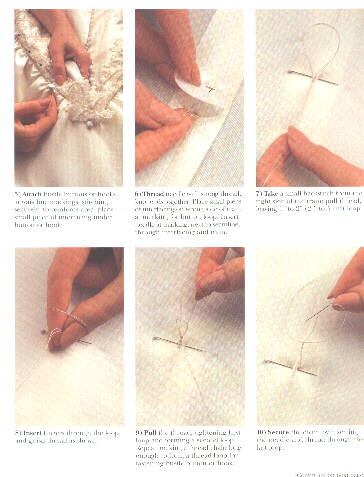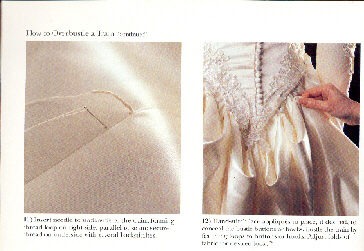 (Images scanned from the sewing reference book "Sewing For Special Occasions"
by Singer)
How to Overbustle a Train
1) Measure the center back seam of train from the waistline seam to the floor, as indicated by red tape measure. Measure this distance from the edge of train, as indicated by blue tape measure; mark with pin.
2) Lift the center back seam at pin mark to waistline at center back. Adjust the fold so train is 1/2" to 3/4" (1.3 to 2 cm) off the floor; pin to waistline seam as shown.
3) Fold and pin train at each side back seam, so sides of the train are off the floor 1/2" to 3/4" (1.3 to 2 cm). Continue to fold and pin train as necessary between seams, to lift remaining train off the floor.
4) Check the drape of the train; if train is long or fabric is heavy, distribute each fold into two smaller folds. Each additional fold will require a bustle button or hook. Release bustle, pin-marking points on train and waistline.
5) Attach bustle buttons or hooks at waistline markings, stitching securely; to reinforce area, place small piece of interfacing under button or hook.
6) Thread needle with strong thread; knot ends together. Place small piece of interfacing on wrong side of train at marking for button loop. Insert needle at marking, next to seam-line, through interfacing and train.
7) Take a small backstitch from the right side of the train; pull thread, leaving 1" to 2" (2.5 to 5 cm) loop.
8) Insert fingers through the loop, and grasp thread as shown.
9) Pull the thread, tightening first loop and forming a second loop. Repeat, making a thread chain long enough to form a thread loop for fastening bustle button or hook.
10) Secure the chain by inserting the needle and thread through the last loop.
11) Insert needle to underside of the train, forming thread loop on right side, parallel to seam; secure thread on underside with several backstitches.
12) Hand-stitch lace applique's in place, if desired, to conceal the bustle buttons or hooks. Bustle the train by fatsening loops to buttons or hooks. Adjust foldsof fabric for desired look.
Back to the top